,
Rundgang 2021 - Summer Presentation
From 10th July 2021, students will be presenting their work in exhibitions, films and on a website. Their highly promising art and design ideas provide fresh perspectives on the present and the future.
An art school without face-to-face teaching and contact with the general public – this has been the situation during the last three semesters. The pandemic has certainly challenged the students and teaching staff in a variety of ways. At the same time, however, it has also released creative energy and made possible new perspectives on art, design and digitisation.
New materials for a responsible circular economy, 4D-printed textiles, multifunctional designs for new forms of communication, social concepts for interior design and urban development, sustainable clothing, and interventions in public spaces – at the weißensee school of art berlin, trendsetting and innovative ideas have emerged during the last academic year. And it is these ideas that the students will be presenting from 10th to 23rd July 2021 in exhibitions and on a website.
In previous years, thousands of Berliners came to our open days. This year, because of the pandemic, it is a website that will serve as a huge window on the creative and experimental work of the school of art. From 10th July 2021, the various departments, with their studios and numerous workshops, will be showcasing group presentations as well as end-of-semester and final degree projects at www.rundgang.kh-berlin.de The various formats on display provide virtual insights into the multiform world of art and design, and invite visitors from all over the world to embark on a digital tour.
Moreover, anyone longing for an analogue art experience following months of lockdown will not be disappointed with this year's tour either. From 17th to 23rd July, students from the departments for sculpture and painting will be presenting their final degree creations in Berlin's former cold storage facility, the Kühlhaus, at 3, Luckenwalder Straße. The exhibition IPSO FACTO will be showing paintings, drawings, photographs, video creations and installations, all of which engage both with questions intrinsic to art and with socio-political topics as well.
The seefashion21 event from the fashion design department is also presenting itself this year in a new format – not as a live fashion show but as a fashion film premiere. Collections by 22 final-year students will be impressively staged using a combination of fashion and catwalk films. Because of the pandemic, the film premiere will take place on the evening of 13th July in two formats: as an open-air film screening for invited guests at the Haus der Statistik and as an online presentation on the platform: www.weissensee.tv.
The exhibition head over heels, which was designed by eight final-year students at the invitation of the event platform Platte Berlin and can be visited daily from 1st to 13th July, provides a foretaste of the seefashion21 film premiere.
Further information about digital and analogue events that are part of this tour: www.kh-berlin.de/rundgang.html
Project category
Project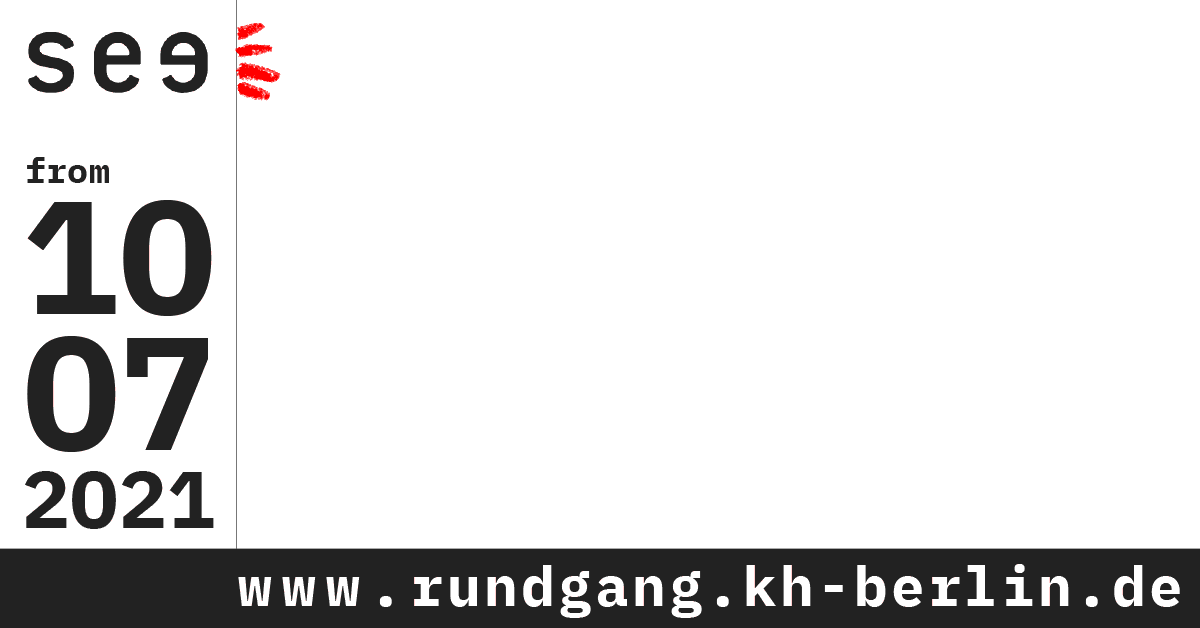 Animation Rundgang2021
Rundgang2021
Alle Rechte vorbehalten weißensee kunsthochschule berlin