Sommersemester 2021, BA/MA Textil- und Flächendesign Exzellenzcluster , Textil_Startseite
"Architectures of Weaving" Symposium 2nd July, 2021 (Online)
»Architectures of Weaving« explores weaving and textiles as a constructive and design approach shifting Gottfried Semper's idea of textile as a spatial element into a contemporary and interdisciplinary discourse. Weaving becomes a means of constructing space while it is a spatial structure in itself. Discussing this relationship, the symposium will cross scales and disciplines—from building to microbiology, from design to mathematics. It opens up a new perspective onto architecture, its materiality and structure by discussing the idea of soft construction and fiber systems from various interdisciplinary fields.
Can we rethink the way we perceive building envelopes as a system of flexible interactive membranes rather than solid and static separations between inside and outside? How can we engage with the environment rather than protecting ourselves from it? What kind of materials would we need for this and how could we collaborate with their inherent activity?
»Architectures of Weaving« reimagines the art of weaving as a combined result of fibre activity and cultural practice in architecture and spatial contexts. Weaving as a material and spatial operation combines linear threads to form a coded 3D structure. This process is taken up in the structure of the symposium. The symposium not only addresses but also practices the textile thinking of connectivity. It emphasizes the activity in designed, natural or symbolic systems and through this interdisciplinary discussion aims at a new approach to materiality in our architectural environment.
Project subjects
BA/MA Textil- und Flächendesign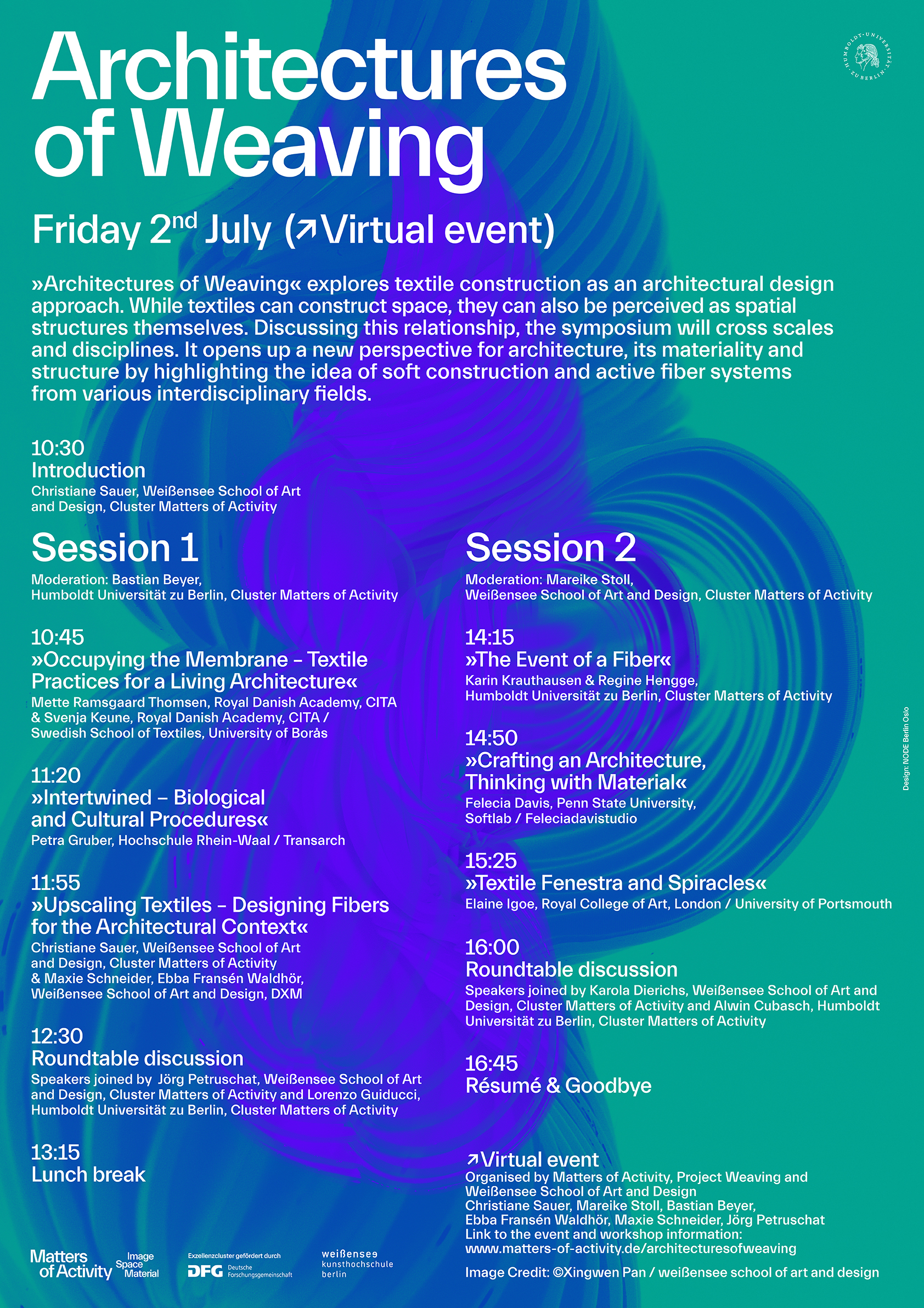 Architectures of Weaving

Alle Rechte vorbehalten Matters of Activity / NODE Berlin Oslo