Wintersemester 2020/2021, BA/MA Produkt-Design , BA/MA Textil- und Flächendesign , BA/MA Mode-Design , BA/MA Visuelle Kommunikation
DESIGN studieren - INFOABEND no1 19.NOV 20
english version below
Entdecken Sie das Studienangebot und die Studienschwerpunkte der BA-Designfachgebiete! Sie erfahren am Infoabend alles rund um das Studium und die besonderen Möglichkeiten an der weißensee kunsthochschule berlin!
Der LINK & die REGISTRIERUNG zum digitalen INFOABEND no1:
hopin.to/events/infoabend-design-studieren-an-der-weissensee-kunsthochschule-berlin
Die Anmeldung zum Event ist bereits gestartet, über den Link einfach auf den blauen Button "Join Event" klicken und registrieren! Sie erhalten eine Erinnerung und sind zu 100% am 19.11. mit dabei!!! Wir freuen uns auf Sie!
:::::::
PROGRAMM
18:00 Einführung (Beratungsangebote und digitales Bewerbungsverfahren)
18:20 Vorstellung der künstlerischen Grundlagen
18:30 Mode Design
18:45 Produkt Design
19:00 Textil- und Flächendesign
19:15 Visuelle Kommunikation
Nach jeder Fachgebietspräsentation werden virtuelle Beratungsräume/Sessions geöffnet, hier beantworten Studierende aus den einzelnen Fachgebieten all Ihre Fragen, die das Studium betreffen!
Auch die Studienberaterinnen stehen bis 20:30h im virtuellen Beratungsraum zu Verfügung. Wir erklären Ihnen den digitalen Bewerbungsprozess aller grundständigen Fachgebiete, geben Informationen zur digitalen Mappeneinreichung sowie zur künstlerischen Zugangsprüfung 2021.
:::::
Eine Woche vor Bewerbungsschluss laden wir Sie herzlich zum 2. Infoabend der weißensee kunsthochschule berlin ein, den wir ausschließlich den 3 Diplomstudiengängen der Freien Kunst widmen möchten: Malerei, Bildhauerei sowie Bühnen- und Kostümbild! Der Infoabend no2 folgt am Do, 3.12.20. Zur Registrierung gelangen Sie hier: hopin.com/events/infoabend-freie-kunst-studieren-an-der-weissensee-kunsthochschule-berlin
::::::;;;;;;;;;;;;;;;;;;;;
ENGLSISH VERSION
::::::
Study BA-Design at the weißensee art academy berlin
::::::INFO_EVENING No1 – Nov 19th 18:00 (CET)
Discover the range of programs and the main focus of the BA design departments and study programs of the fine arts! The event will be held in german, but there will also be a lot of visuals. The consulting services can of course also be provided in english. At the information evening you will learn everything about studying and the special possibilities at the weißensee kunsthochschule berlin!
The LINK & the REGISTRATION TO digital INFOABEND no1:
hopin.to/events/infoabend-design-studieren-an-der-weissensee-kunsthochschule-berlin
You can already register for the 2nd information evening, via the link, just click on the blue button "Join Event" and register! You will receive a reminder and will be 100% present on 19.11.! We are looking forward to you!
:::::::
PROGRAM
18:00 Introduction (consulting services and digital application procedure)
18:20 Presentation of the foundation year
18:30 Fashion Design
18:45 Product Design
19:00 Textile and surface design
19:15 Visual communication
After each department presentation, virtual consultation rooms/sessions will be opened, where students from the individual departments will answer all your questions concerning your studies!
Also the study advisors are available until 20:30h in the virtual consulting room. We will explain the digital application process for all basic departments, provide information on digital portfolio submission and the 2021 artistic test.
:::::
One week before the application deadline, we cordially invite you to the 2nd information evening at the weißensee kunsthochschule berlin, which we would like to dedicate exclusively to the 3 diploma programs in Fine Arts: Painting, Sculpture as well as Stage and Costume Design! The information evening no2 follows on Thu, 3.12.20. To register, please click here: hopin.com/events/infoabend-freie-kunst-studieren-an-der-weissensee-kunsthochschule-berlin
Project category
Information
Project subjects
BA/MA Produkt-Design, BA/MA Textil- und Flächendesign, BA/MA Mode-Design, BA/MA Visuelle Kommunikation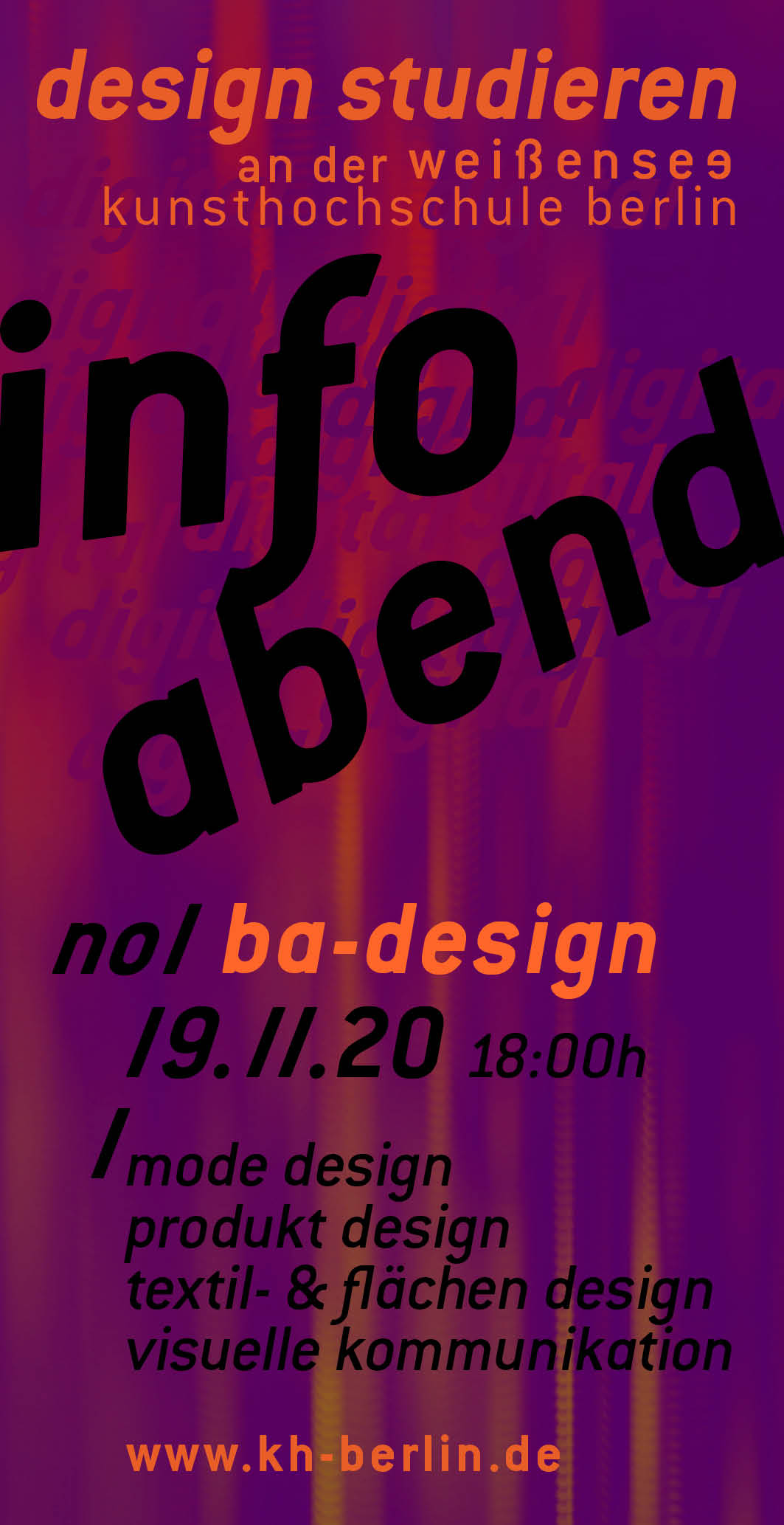 INFOABEND DESIGN

Alle Rechte vorbehalten Susan Lipp