Wintersemester 2019/2020, BA/MA Visuelle Kommunikation VK_Startseite
ENTFÄLLT: Machines For Future - Ausstellung
From Counterproductive to Protest Machines
Opening: 20. March 2020, 19pm
Exhibition: 21.-22. March 2020, 11am-20pm
@Projektraum Kunsthaus Bethanien
Protest movements have always been an important civic contribution to political participation and thus to the transformation of cultural and value systems. Protest is a multi-faceted social phenomenon that not only manifests itself in the form of social movements and political organizations, but also in personal initiative, grassroot activism and new forms of artistic expression. It is an independent cultural domain whose aesthetics, practices and narratives are themselves regularly re-used and counteracted by the media, advertisers and even political actors.
Meanwhile we know very well that the promised land of machines and the virtual is coming at a great cost. Machines have always been ambivalent. They relieve us of work and they take away our work. They store enormous knowledge and amputate us at the same time. AI reproduces our thought structures and thus unnoticed our prejudices. Due to the polished interface surfaces, errors & manipulations become less and less verifiable - an almost religious belief in data and technological progress remains. What was once promised to us as a happy, networked world has brought a seemingly incompatible social division into the various filter bubbles and, moreover, a loss of self-determination and human dignity. The enormous technological capacities are being used to waste resources instead of using them reasonably and sustainable.
At the border between art and activism we explored inventing new tools for networking, communication and protest – new ways of making problems interactively visible and understandable.
The medium – but also the theme – of our protest are hardware and software machines immersed in subversive and innovative forms of protest.
↗ Paul Schell
↗ Leon Schöler
↗ Ahmed Isam Adin
↗ Inga Schlagowski
↗ Judith Weber
↗ Jade Mauduit
↗ Karoliina Pärnänen
↗ Anneliese Wabnitz
↗ Nora Ludolph
↗ Yael Ohmer
Semesterproject supervised by Prof. Barbara Junge & Prof. Julian Adenauer
Participants
Paul Schell, Ahmed Isamaldin Mohamed,
Judith Weber
, Jade Mauduit, Anneliese Wabnitz, Nora Ludolph
Project category
Semester Project
Project subjects
BA/MA Visuelle Kommunikation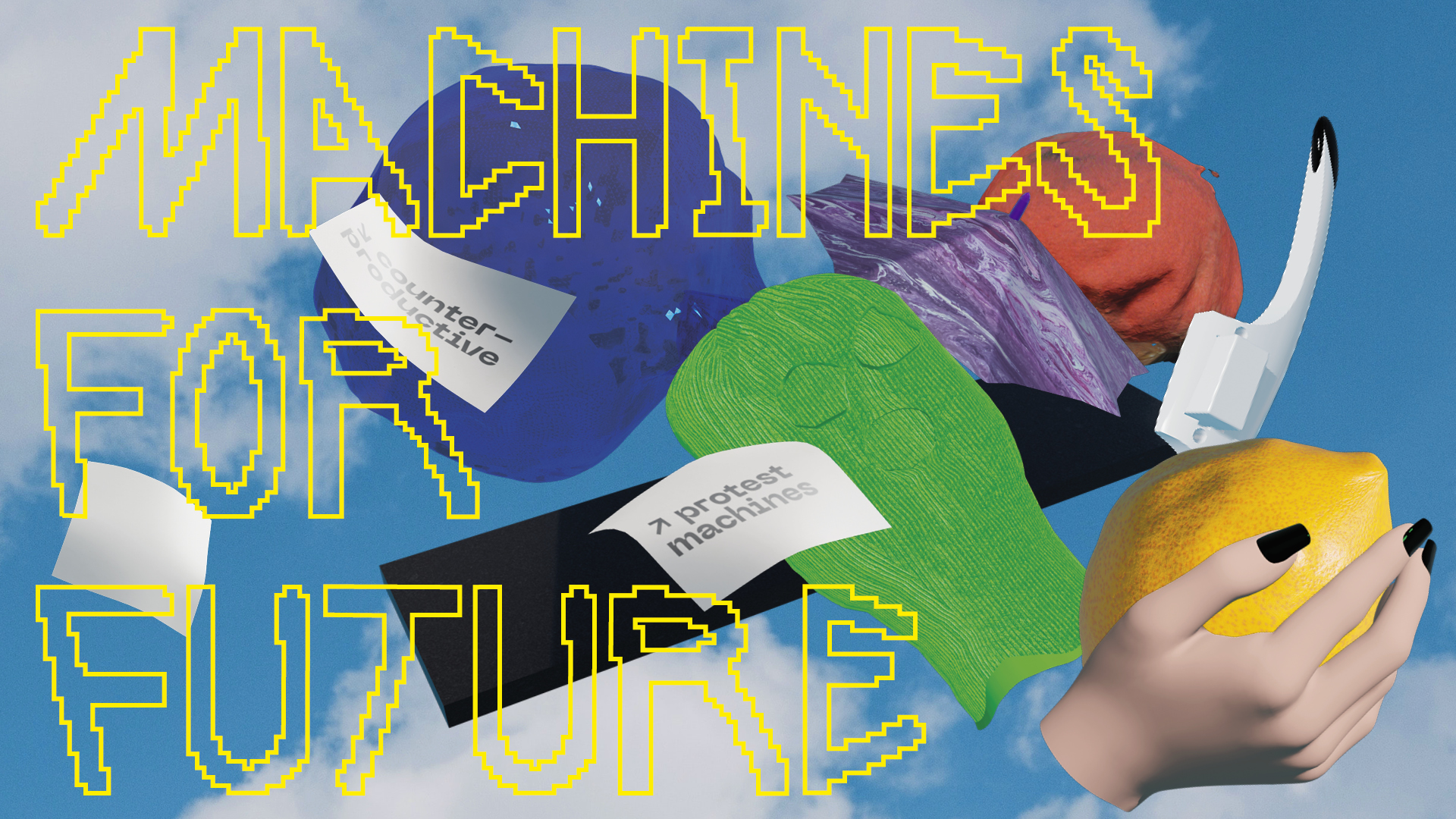 Machines For Future

Alle Rechte vorbehalten Judith Weber