Wintersemester 2013/2014,
TURKISH EMBROIDERIES
TURKISH EMBROIDERIES
Talk by Prof. Dr. Cigdem Cini (Istanbul/Turkey)
Marmara University, Faculty of Fine Arts, Department of Textiles
Wednesday, 27th of November, 2013 @ 5pm
Mart-Stam-Raum
Weißensee Kunsthochschule Berlin
Embroidered textiles represent an important part of textiles amongst
the Turkish heritage textiles because the embroidery was the basic embellishment technique
used in Turkey whether they were from the Ottoman Court circles or from a provincial town.
Especially the historical pieces made during the Ottoman Era from the
sixteenth century to the early twentieth century display a characteristic style with very fine
craftsmanship and rich materials and harmonious colors. Anatolian folk
embroideries which are made in villages for domestic use display local characteristics. These
textiles have a special importance and place in cultural habits and ritual customs.
Symbolic expressions are commonly used in the embroidered motifs and patterns.
Even though the embroidered costumes and textiles, in general, employ
commonly seen features in terms of techniques, materials and colors
and display diverse influences from other cultures, each of them
reflects cultural characteristics of their region of origin and are
unique sources for the exploration of the social life, economy and
customs in a society in a specific time-span.
Dr. Cigdem Cini, born in Istanbul, holds Masters degree from the State
Academy of Fine Arts in Turkey, Textile Design Department. She
continued her postgraduate studies in the United Kingdom from 1989 to
1993 completing PG Diploma in Textile Design and MPhil degree at the
Textile Department of the University of Leeds. She concluded her
studies with a PhD degree at the Mimar Sinan University where she
carried on her doctorate studies after her return to Turkey.
Currently, she works as Professor at the Textile Arts Department of
Marmara University, Faculty of Fine Arts in Istanbul. She has
contributed to many national and international conferences, symposiums
and exhibitions with her academic papers and art works. She is also an
author of publications about historical textiles and costumes.
The talk will be conducted in English and is open to everyone
interested in the topic.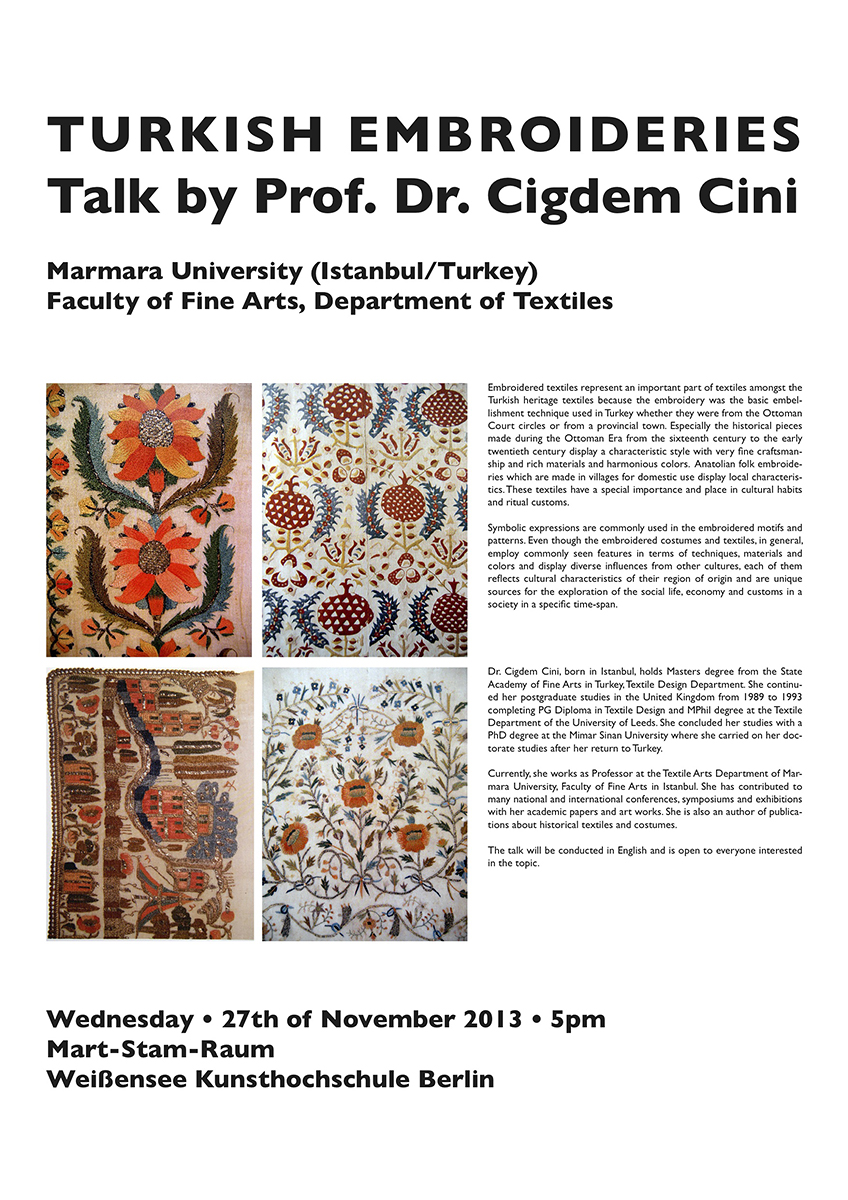 Poster17bA3.jpg

Alle Rechte vorbehalten